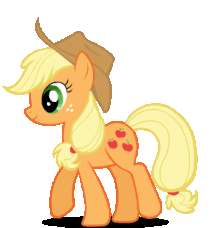 Applejack is the 4th bearer of the Element of Honesty.
Appearance
Edit
Additional Features ie. Claws, Tail, Whatever is Needed etc.
Personality
Edit
Powers and abilities
Edit
Equipment
Edit
Items
Name: The Element of Honesty
Special Traits: Can be used in conjunction with 5 other elements of harmony for a partial Rainbow of Light of with all other 6 for the full Rainbow of Light.

Name: Stetson
Special Traits: +2,000 to all honesty based checks. FOREVER.
Weapons
Name: Ultima Blade
Weapon Type: Broadsword
Special Traits: Can shift into a bow.
Relationships
Edit
Appearance in Stories
Edit
Deuterocanon
Edit
Non-canon
Edit
Cancelled
Edit
You Know What to Put Here
You don't HAVE to fill all of these.