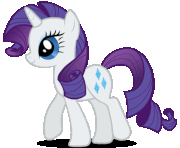 Rarity is the 4th bearer of the Element of Generosity
Appearance
Edit
As Ponies don't normally wear clothing, Rarity will only been seen in dresses of her own design on special occasions; she has a large number of dresses at her disposal.
Additional Features ie. Claws, Tail, Whatever is Needed etc.
Personality
Edit
Powers and abilities
Edit
Equipment
Edit
Relationships
Edit
Appearance in Other Stories
Edit
You Know What to Put Here
You don't HAVE to fill all of these.