The Champions of the World, the merry band of musical misfits and would-be heroes that have allied with Knightmare in their quest for peace, harmony, and happiness for all via music and force-of-arms.
The band's name comes from the title of the first song they sang as a group, back in Ponyville, 'We are the Champions' by Queen.
Meet The Champions
Edit

Queen Chrysalis GlasswingEdit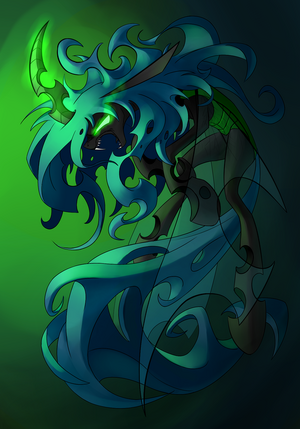 Queen Chrysalis Glasswing
Name
Queen Chrysalis Glasswing
Alias
'The Queen of Destruction', ChrissiePie, Cherry Chimichanga
Characteristics
Race
Changeling[Queen]
Birthday
????
Age
Over 40,000 years
Gender
Female[Can become hermaphrodite at will]
Height
Big
Weight
Surprisingly light.
Domain
Residence
Wherever the buck she feels like. Mostly the city of Volonia
Relatives
Every changeling alive[Children], Queen Pandora[Sister], Kngihtmare [Sorta-husband], Nyx[Waifu]
Allegiance
Her changelings, and whoever's willing to help them.
Princess Mi Amore Cadenza
Edit
Princess Mi Amore Cadenza
Name
Princess Mi Amore Cadenza
Alias
Princess Cadance, Cadie-Poo, The Badass Pink Pony Princess
Characteristics
Race
[Lesser] Alicorn[Love Goddess]
Birthday
???
Age
A few hundred, maybe?
Gender
Female[we think]
Height
Approx. 4 foot not counting the horn
Weight
That's a rude thing to ask!
Domain
Residence
Crystal Empire Palace, when she's not travelling
Relatives
The Royal Family[family], Twilight Sparkle[Sister-in-law], Shining armor[Husband], Queen Chrysalis[Part-time lover]
Allegiance
Anyone with love in their hearts
Princess Nyx Nocte Everfree
Edit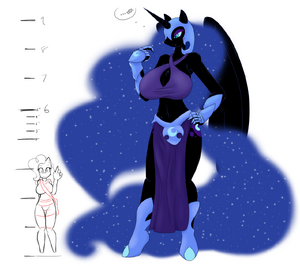 Princess Nyx Nocte Everfree vi Equestria
Name
Princess Nyx Nocte Everfree vi Equestria
Alias
Nightmare Moon, The Nightmare, The dark defender, The Horror[Oh the Horror!]
Characteristics
Race
Nightmare[Formerly Alicorn: Goddess of Darkness]
Birthday
a looooooooong time ago
Age
Older than you think
Gender
Female[we hope]
Height
Biiiiiiig!
Weight
Broke every scale used
Domain
Residence
Knightmare's guitar
Relatives
Royal Family[siblings], Cadance[niece], Knightmare[lover/potential husband], Chrysalis[lover]
Allegiance
The forces of Good, and whoever's willing to give her their soul.
Prince-Regeant Shining Armor
Edit
Lyra & Bonbon Heartstrings
Edit
Octavia Philharmonica-Staccatto
Edit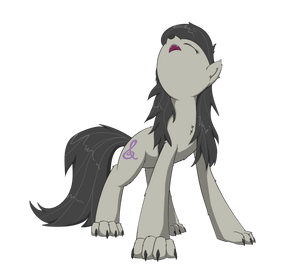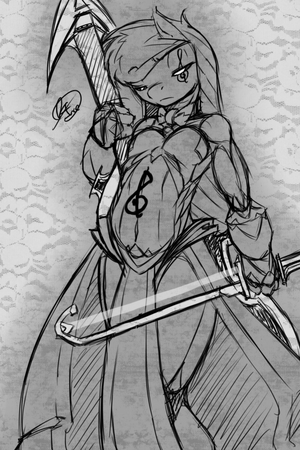 Vincenza 'Vinyl Scratch' Staccatto
Edit
Applebloom Apple, Scootaloo Chi, Sweetie Belle
Edit
[The Ghost of] Combat Drone #516, AKA 'Drone'
Edit
Crossovers with other stories.
Edit
.....alot. Almost all of them in fact.