Twilight Sparkle is
Princess Celestia
's personal student. She is also represents the Element of Magic for the Elements of Harmony: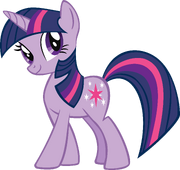 Twilight Sparkle
Name
Twilight Sparkle
Alias
Archmagus Twilight Sparkle, Vice Reign of Ponyville
Characteristics
Race
Unicorn
Birthday
asd
Age
asd
Gender
Female
Height
asd
Weight
asd
Domain
Residence
Ponyville
Relatives
Shining Armor (Brother)

Princess Cadence (Sister in-law)

Spike

Allegiance
Equestria
Character
Edit
Twilight Sparkle is the protagonist of My LIttle Pony: Friendship is Magic,
A story written by a number of really cool and amazing people.
Appearance
Edit
Twilight typically wears no clothing, although in cold weather she wears a scarf and saddle.
Going by the standard height chart, Twilight Sparkle is the height of an average pony.
Unknown (it's rude to ask a lady about their weight.)
Twilight Sparkle isn't very athletic, instead preferring to study. Nevertheless, she is fast enough to keep up with her friends and placed fifth in the Running of the Leaves.
Twilight possesses no outstanding facial features, excluding her horn and eyelashes. Her hair is straight and indigo, with a darker purple stripe and a bright pink stripe.
Additional Features ie. Claws, Tail, Whatever is Needed etc.
Her tail also has the dark purple and pink stripe, and is straight like her mane.
Personality
Edit
Powers and abilities
Edit
Equipment
Edit
The Element of Magic
The Mace of Zeus
Relationships
Edit
Trixie Lulamoon is one of the only characters to be considered Twilight's rival.
Appearance in Stories
Edit
Deutrocanon
Edit
Non-canon
Edit
Cancelled
Edit
You Know What to Put Here
You don't HAVE to fill all of these.