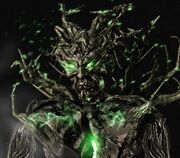 When Nature Calls is by SwiftEthan . It is a story about a human who is sent to Equestria in the form of a spriggan from Skyrim, by the Daedric Prince Clavicus Vile. Current canon status is CANCELLED.
Main Characters
Edit
Rowan Cutler: He was brought into the universe after taking a sip of drugged tea, and wasn't exactly given a choice of whether to join or not. He doesn't really understand the rules of the game as it was never fully explained to him, so he isn't aware of the existence of the other pieces. Over time, he grows accustomed to his new body and the strange new world.
To be filled out later.